Alnor® AirGard® Air Flow Monitors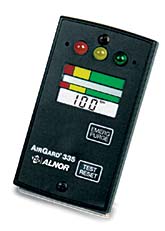 Alnor® AirGard® Air Flow Monitors measure the exhaust of bio-safety cabinets and other hoods using a remote probe inserted in the air flow stream of the exhaust duct. The AirGard 350CEM and 315BSC Air Flow Monitors continuously monitor and indicate air flow levels in critical environments. Both models feature wide velocity ranges to accurately measure air flow across HEPA filters or in exhaust ducts.
The AirGard 410-HE Hazardous Environments Monitor is specifically designed to monitor air flow in explosion-proof lab hoods or hoods that are used in environments where all equipment must be explosion-proof or intrinsically safe. When the velocity or pressure drops below a user-determined level, all AirGard Air Flow Monitors activate an audible alarm, visual alarm, and relay output. This alerts personnel that the air flow at the face of the lab hood or bio-safety cabinet is inadequate.
All AirGard models are easy to install, making them an excellent choice for both new installations and retrofits.
Features & Benefits
•The AirGard Model 315-BSC is a simple, go/no-go monitor for critical airflows including the downflow of a bio-safety cabinet.
•The AirGard Model 350-CEM goes a step beyond the Model 315-BSC with its large LED and digital display of measured velocity.
•The AirGard Model 410-HE lab hood monitor is designed to alert staff of unsafe conditions. The Model 410-HE is constructed of explosion-proof components, minimizing the odds of an incident.


Alnor AirGard Air Flow Monitors 315-350 Spec Sheet

Alnor AirGard Air Flow Monitors 410HE Spec Sheet